-

1 red onion

-

A bit of thyme

-

1 tbsp sugar

-

2 tbsp apple vinegar

-

2 slices of bread with walnuts

-

2 tbsp  strong mustard

-

2 tbsp honey

-

100g Brie

-

A few thin slices of apple

-

A good handful of ruccola

-

Salt

-

Freshly cracked black pepper

-

Butter, for frying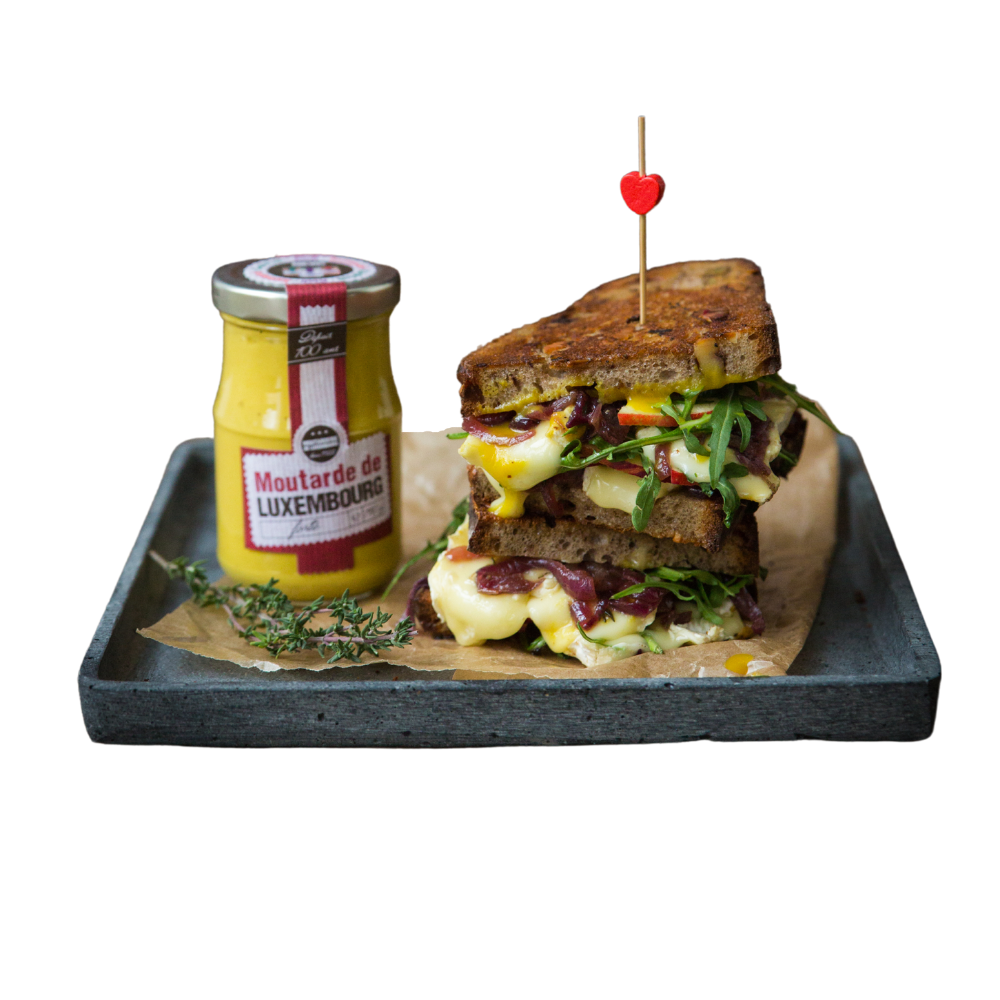 1

Peel and slice the onion. Melt 15g of butter in a frying pan and fry the onions with a pinch of salt and a bit of thyme over a medium heat for about 8 minutes, stirring regularly (you can add a glug of water if they seem to dry while cooking).

2

Add the sugar and cook for another 2 minutes, then add the vinegar and cook for another minute. Season with black pepper and set aside.

3

Cut the bread slices in half so you get 4 pieces. In a little bowl, mix the mustard and the honey and spread it over the bread slices.

4

Cut the Brie into slices and distribute it over the 4 bread slices. Top each with a bit of melted onions, then top 2 slices with apple slices and 2 slices with ruccola. Flip an apple-topped slice onto a ruccola topped slice to make a sandwich. Spread some butter over the top of the two sandwiches.

5

Heat a large frying pan and put both sandwiches, butter side down in the pan. Put a heavy saucepan or a plate with cans on top of the bread slices to weigh down the sandwiches. Fry on a low heat for about 2 ½ minutes.

6

Once the bottoms are nicely browned, remove the weight from the top and spread some butter over the unbuttered sandwich side. Turn the sandwiches over, weigh down again and fry for another 2 ½ minutes or until the cheese is melted.Serve the sandwiches immediately.