Who we are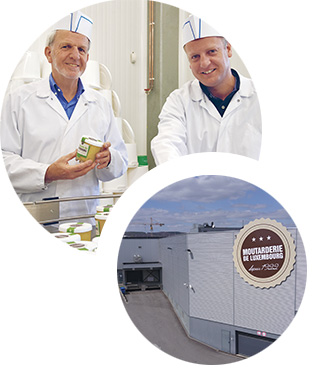 « Cooking calls for a light head, a generous spirit and a large heart. » Paul Gauguin
Our team
Yann MUNHOWEN

Director

Tél : (+352) 26 29 03 818

Send an email

Roland MUNHOWEN

Director

Tél : (+352) 26 29 03 303

Send an email

Maëlynn DUSSAUCY

Marketing & Sales

Tél : (+352) 26 29 03 300

Send an email

Jean FRANCK

Production Manager

Tél : (+352) 26 29 03 200

Wolfgang ZEIMENTZ

Production Manager

Tél : (+352) 26 29 03 201

Philip KAUDY

Industrial Mechanic

Sandra TATONE

Packaging

Marion JAKOBS

Packaging

Enrico GROEBEL

Packaging

Tim KONOPATZKI

Packaging

Kocor MALGORZATA KATARZYNA

Packaging
Our know-how
Each year, Moutarderie de Luxembourg produces almost 240 tonnes of mustard and 160 tonnes of mayonnaise, mainly destined for the Luxembourg market. The mustard grains used come from Canada and Europe, whilst the vinegar contained our mustard and sauces is from Luxembourg.
Since all the ingredients are guaranteed 100% natural and preservative-free, Luxembourg mustard, in comparison with other mustards, possesses a shorter best before date. Indeed, this is exactly what Roland Munhowen means when he describes it as a product that is "authentic and traditional, to be enjoyed when new, fresh and creamy".
At all the production stages, carried out daily and solely on the basis of orders taken, Roland and Yann Munhowen are omnipresent, from selection and ordering of raw materials to supervision of the final operations, not forgetting monitoring of the basic recipes.
Contrary to other mustard producers, the essential oils contained in the grains are not extracted during grinding, which gives the sauce genuine quality and incomparable taste.
During blending and maturing, vinegar is added to the crushed grains which, once soaked, form a creamy mixture. Salt, sugar and spices are added which give Luxembourg mustard its so unique taste.
After new mixing and grinding, the mixture is pumped into a vat where it remains for an entire night in order to vent out the oxygen. The following day, the fully automated packaging operations are conducted in optimal hygiene conditions, guaranteeing constant product quality.
Since the Moutarderie de Luxembourg redesigned its labels back in 2015, the company has enjoyed huge success and has further expanded its range by creating two new brands: "Ketchup de Luxembourg" and "Andalouse de Luxembourg".
To date, both new products are still constantly evolving – they have gained an excellent reputation based on the high ethical standards of their creators and the outstanding quality of their sauces.