-

3 Wäinzossiss sausages

-

300g spaghetti

-

1 tbsp sunflower oil

-

10g butter

-

1 tbsp strong mustard ("Moutarde forte")

-

1 tbsp classic mustard ("Moutarde original")

-

1 tbsp wholegrain mustard ("Moutarde à l'ancienne")

-

100ml white wine

-

200ml cream

-

Salt and pepper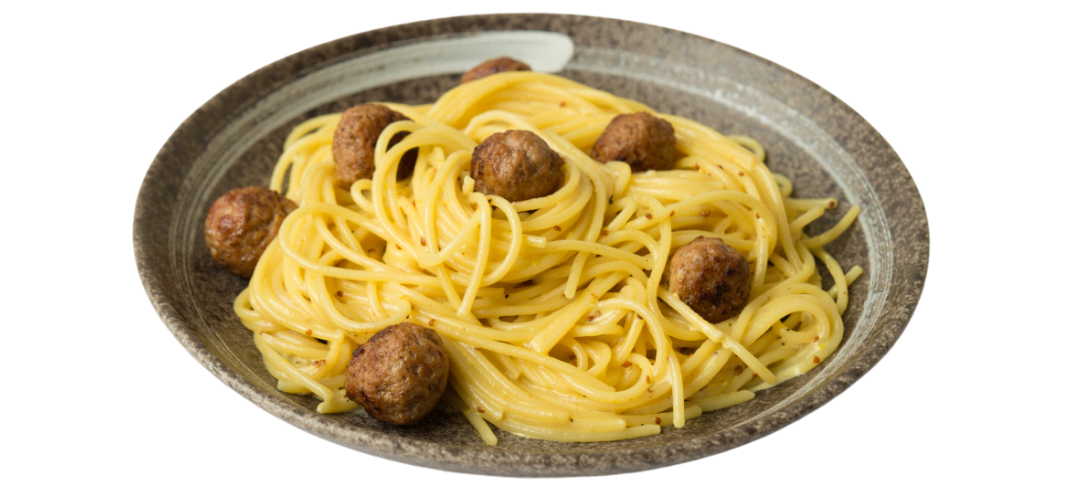 1

Slice open the sausages, remove and discard the casing. Break of walnut-sized pieces of sausagemeat and roll into meatballs between your hands (approx.. 12g per meatball).

2

Boil the spaghetti in salted water until al dente, meanwhile, prepare the sauce.

3

Heat the sunflower oil and butter in a frying pan. Fry the meatballs for 5 minutes, turning regularly, until evenly browned. Put onto a plate and set aside.

4

Add the 3 types of mustard and the wine to the pan and cook for 2 minutes. Add the cream, season with salt and pepper and simmer the sauce for about 5 minutes until it has thickened.

5

Add the meatballs to the sauce and toss to cover them in sauce.

6

Drain the spaghetti and mix with the sauce and meatballs. Divide between two plates and serve immediately with a green salad.