-

For the oepsies:

-

150g smoked bacon strips

-

100g BBQ sauce

-

30g Moutarderie ketchup

-

1 tbsp soy sauce

-

40g honey

-

1 tbsp brown sugar

-

1 tbsp oregano

-

For the slaw:

-

corn on the cob

-

150g de choux

-

1 spring onion

-

1 carrot

-

1 bunch coriander

-

40g Moutarderie mayonnaise aux œufs

-

60g Samouraï sauce

-

Salt and pepper

-

Lime wedges, to serve.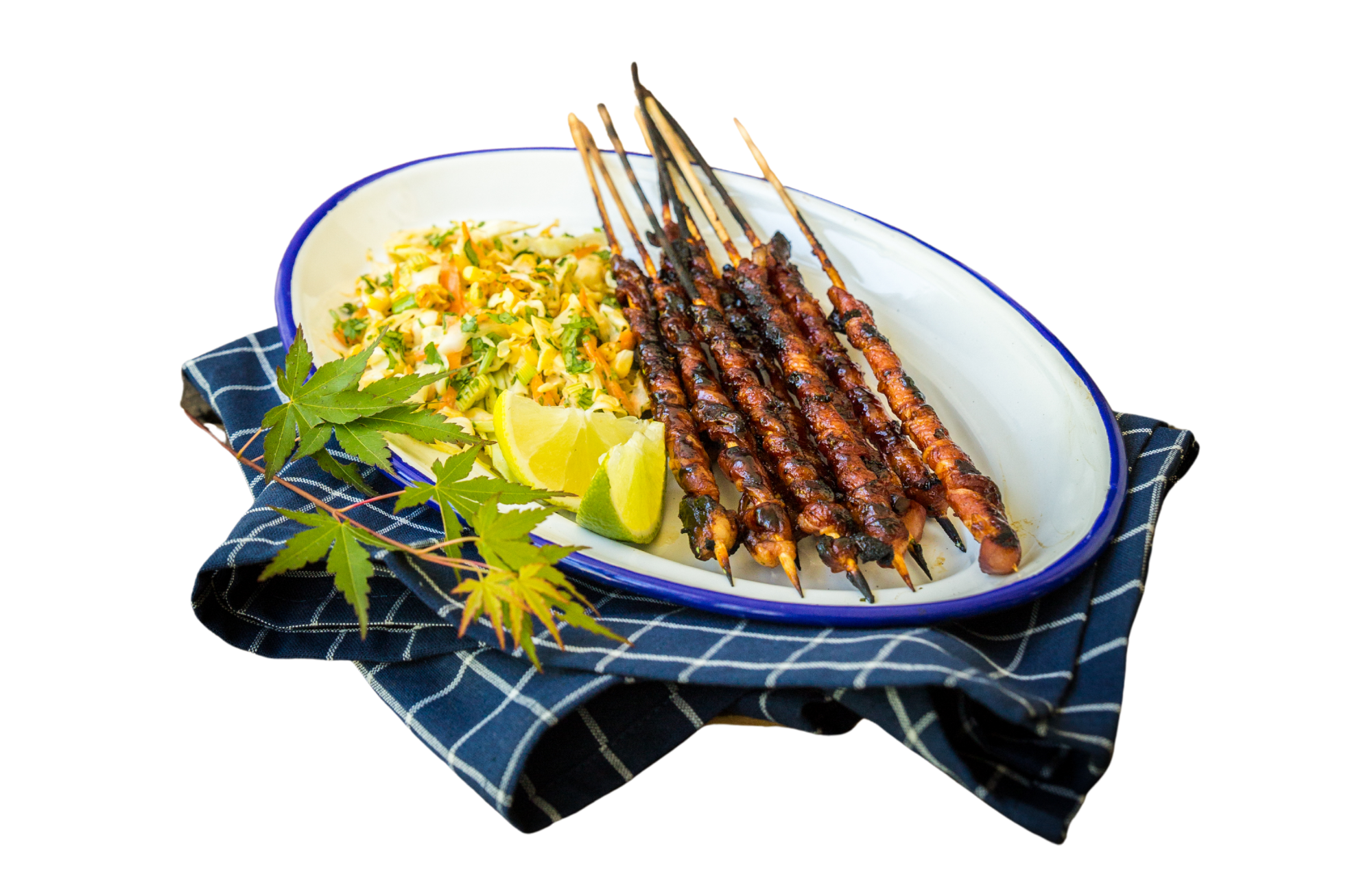 1

Start by marinating the oepsies a night before. Fold a bacon strip lengthwise over itself, so you get a thinner strip. Stick a skewer through one end of the bacon strip, then twist the bacon all around the skewer, sticking the end of the bacon in the skewer to make it set. Repeat with the remaining bacon and lay the finished skewers onto a large tray.

2

Mix the BBQ sauce, ketchup, soy sauce, honey, brown sugar and oregano.

3

Brush the marinade all over the skewers, so that the bacon is well covered. Cover with cling film and marinade in the fridge overnight.

4

The next day, prepare the slaw. Heat the BBQ and grill the corn on the cob for 25 minutes, turning it regularly until it's cooked through and charred in places. Set aside to cool a little while preparing the other vegetables.

5

Finely slice the cabbage and the spring onion and put in a bowl. Peel and grate the carrot and add to the bowl. Roughly chop the coriander and add to the bowl.

6

Get the corn off the cob and add it to the bowl with the other vegetables.

7

Add the mayonnaise and the Samouraï sauce to the vegetables and toss so that the vegetables are all covered. Adjust the seasoning with salt and pepper and keep in the fridge until ready to serve.

8

Grill the oepsies on the barbecue until nicely browned all over (about 5 minutes). and serve with coleslaw and lime wedges.